PTA Meeting Maury Elementary Common Room Thurs, Jan. 20
CLICK TO JUMP TO A SECTION | Treasurer's Update | Principal's Update | Eliot Hine Principal & Student Panel | DIO Awards
Attending: Principal Payne Chauvenet, Presidents Shavanna Miller and Amy Toner; Vice President Lora Nunn; Treasurer Clark Bosslet; Parliamentarians Kathryn Wright and Karli Maloney; Secretary Elizabeth O'Gorek; Equity Chairs Talia Dubovi and Sandro Parodi.
More than 85 PTA members attended, many bringing their children to hear the MS Panel.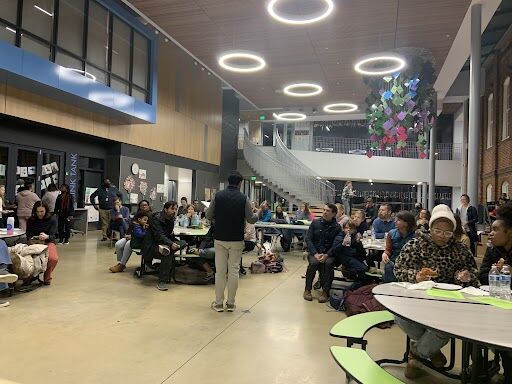 TREASURER's REPORT
Clark Bossett (CB) says we are up about 5% from projections. On expenses, we spent 44% —exactly as planned. Successful fundraisers. Doing well on home stretch on the way to M@M. Line items look good. Have a bit of surplus.
POINT OUT: Listening sessions are upcoming. These are a survey of budget priorities for next year. More below/to come.
PRINCIPAL PC
Principal Payne Chauvenet points out that we are leading up to the school lottery deadline for those contemplating middle school (March 1). Right now is time of year when other schools are asking you to come get tours. She hopes you will, and urges you to look at neighborhood school.
Majority of Maury students are going to Eliot Hine, our feeder Middle School. This year, we have 50 5th graders, up from 20 5 years ago; that indicates changing habits (charter middle schools start in grade 5, rather than trade six).
That is significantly more students in our top grade at Maury, and yes here have been growing pains, she said; we have to learn what that means, more team building. The fourth grade drop-off [in student population] used to be real.
So she encourages you to look at schools but check out the one down the street.
ALSO: Now, at midpoint of the year, you'll see report cards; can get extra practice from CLEVER, iRead. Sometimes she has conversations with parents who don't realize there's math and reading resources both in iReady.
Q? For 5th Grade, teacher situation: they budget for 25 students per teachers; so we have 2 different teachers. If we had 70 students, we'd have 3 teachers.
GB ?: budget. Not a definite idea of when a budget happens. General allowed amount in February so decisions have to be made around staffing. We try to maintain those here, and see what changes are needed. Need som pt, a clerk in office; intervention in upper grades (bc lack 4th grade teacher) and add a .5 to PE to make whole for next year. None of this is guaranteed next year; PC will be advocating for a 4th fourth grade teacher "We'll see how that shakes out."
ELIOT HINE MIDDLE SCHOOL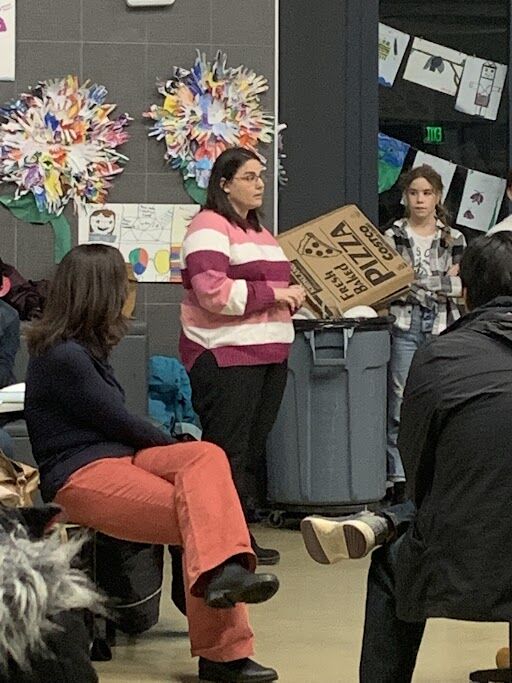 Stephanie Gregorian, Eliot Hine Middle School (EH MS) Liaison Chair introduces both EH Principal Marlene Magrino and the MS Student Panel.
Magrino says she is doing a tour of elementaries; was at Payne yesterday. Nice to engage. Invites you anytime to reach out to her [marlene.Magrino@k12.dc.gov] or the school and see it and feel what it likes. She's proud of work over past 5 years, of the staff, students, families, many from Maury; very happy to grow the in bounds neighborhood school balanced with lottery to allow for District-wide representation.
SG introduces EH MS Principal Marlene Magrino. Gives a bit of her bio. She's worked at Washington School for Girls and Monument PCS. BA AU, MS ED Admin from Trinity. At EH since 2018. Over those five years a lot of growth and development at EH, she said.
Three big fyi that are usually asked.
1. Academics Goal is to ensure that students are getting world class education. Been an International Baccalaureate [IB] Middle School since before 2018; were a transformation school when she came on, and doubled down afterward. She said they took time to think about what that meant. IB, she said, in MS runs from 6th to 10th grade and is mostly epistemological approach. Eastern handles last two years and Diploma program which lead to college credit, like AP "internationally recognized, prestigious."
At MS a philosophy about instruction that encompasses all students and approaches (students do not test into it, like with HS Diploma program). Inquiry based curious learners; interdisciplinary learning where students look for overlap between subjects. Projects are designed that way. Balances areas of learning annually: math, language literacy (ELA), science, individuals and society (history, geography); health and PE; world languages, or "language acquisition"; arts (music, visual arts, video production, design). Look at problems, come up with solutions, learn from process, make new iterations, repeat. Emphasis is on process, not solutions.
In school, classes; advanced classes in language and literature are all padded with extensions to expose children to types of literature and that they relate to/id with. In math, EH offers both accelerated and common core math; 40% of students take accelerated. Good news; new curriculum this year with illustrated math— a different way to think about math. Accelerated program goes faster through concepts than 6th grade but don't go faster than standard process; they'll let a kid try it and if it isn't going well you move them and out.
EH offers a full range special education services; there are 4 self-contained classroom, 2 each offering ILS and CDS. Says those are fantastic. Students are location-assigned by district.
Inside class, there are a variety of proficiency and need. Teachers do learning together, then break into groups, either small groups with teacher, collaboration with other student, independent work. Teachers have leeway to plan for extension or intervention. For an 80 min class, try to make time as useful for targeting needs.
So far good: a lot of growth. Over 2 years students have gone to every selective HS (like Duke Ellington) and private schools like Archbishop Carroll.
Staff plan with famiies, help kids set up for success, ie portfolios for Duke. Getting better about starting it earlier and earlier. Start with 7th grade right now, maybe will do earlier in future.
8th grade does community program as part of IB; investigate community to serve, find need, propose solution then implement it. After they do that, they do an "ERIC talk' —like a TED talk, to reflect on process (not if it solved problem). More and more of that is goal so kids are engaging gin real world skills, problem solving, collaboration, critical thinking.
2. School culture and environment. Staff ares tuppposed to create safe and joyful environment. Consistent, staff consistent communication nd help them do it. They review school expectations: behavior, core values, self-reflection; this is preention. Also advisory, 12-14 with adult, stick together, compete; do different lessons, set and review goals (as they are right now, going over mid year data) setting goals, tracking progress, owning learning.
Response to unmet expectation, disrupting learning, behavior in hallway, unsafe activities. Everything is logically tied to learning, linked to what happened. This takes time, she said, and is a process that takes place in the space and time the student has. EH has 4 behavioral staff, 3 social workers 2 social/community workers in building helping students to be reflective, develop skills, do restorative work.
Work to make sure students are in safe space to make mistakes and learn to make better decisions; it needs to be developmental appropriate and they need to figure out how to interact with one another, pls pandemic. Needs to be intentional with learning appropriate behavior as with learning and math. One student, Maya, proposed a student court. Not off the ground yet, but MM is excited; "this feels like an approach where students can be involved."
The School over the last 5 years— you wouldn't even recognize the school, Magrino says. They've gotten Kudos from DCPS above re what they've done for school culture. This year, she says, it is really showing.
3. Experience and Exposure. Magrino's outlook for MS is to have students exposed to/experience as much as possible whether they like it or not. They should explore and try to decide what to pursue and get better at.
Inclusion: 18 comptetive sport from bowling to archery; they have 30 swimmers. Met [katie ladeckie]. EHN (video production studio) interviewed her.
Take students out on field trips; 8th graders went to Philadelphia; Magrino said strangers came up and talked about how students were so great. This year going to NYC for two nights, packed with opportunity and exposure. As students demonstrate they can handle it, they'll do more and more, she added.
In addition to competitive sports, they offer arts; visual arts club; musical (this year Moana jr is the show) concert band (also a class) EHN Video production. Art studio is amazing, Magrino said; there's a kiln and teacher does a lot of digital photography. Debate Club is new this year; book club; EH UN (student govt) peer mediators; mentorship; girls empowerment; and exposure activities, like png pong, hair braiding and dance board games. These happen as part of school year, are not selected, but change every quarter so they can hate it, then move on. About experience.
Didn't touch family engagement, Magrino said but EH wouldn't have gotten here if that weren't a core part of what we're doing.
QUESTIONS for MM
Summer bridge for incoming 5th graders; Rising 6th grade students come in for three days, all teachers who can be there are. Put kids into cohorts; start familiarizing them with EH expectations, core values. They do team and relationship building, ie scavenger hunt. Kids are intentionally paired with new kids (not from their school) do class preview. Literally a preview so they can run thru being at school and get to know faces of students and teachers before they get there.
SCIENCE: Project lead the way; varies annually depending on teacher training. Offers include automations and robotics; these classes rotate. Flight and space this year; medical detectives, coding, design and modeling; app creator for phones; as we get more teachers trained, we rotate through. 4 of them annually.
CAN MAURY KIDS DO EH SPORTS: Maury kids can't participate in EH sports, because DCIAA runs it and there are qualifications; but EH would do a workshop or clinic for Maury. Anyone can go to a meet; but they can't all participate.
IN RESPONSE TO STUDENT QUESTION: Social studies average grade in social studies A and B; says report cards look a lot like this one upcoming from Maury.
Everyone is in IB, it's an approach. Projects are modified as needed, but the approaches modified.
For classes, in 6thg grade they try every class. design, french, spanish, music art. In 7th and 8th, they make choices.After school, kids can pick. Only auditions are cheerleading, musical and basketball. Other activities like hair braiding are built into day and those change quarterly.
On Wednesday, Jan 25 there is a 1p open house with kids in school.
STUDENT PANEL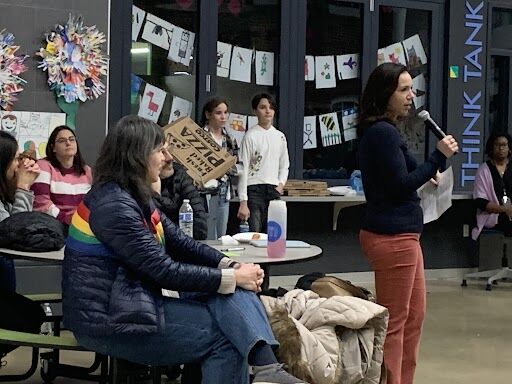 Six Maury Alumni appeared on the student panel, 2 from each grade:
Maya, Lily, MacKenzie, Daniel, Violet and Sidney. They answered questions from the audience.
Q: How was your experience coming from Maury to EH. What was it like?
Lily: its a big shift. EH is very big. After being at Maury for so long, and knowing the hallways its different but its a good environment.
M: issue was having to get from room to lockers in hall; remembering combos, scheduling, allowing time for getting stuff and being on time.
Time management is a skill you lean with lockers if ovule been a basket all game in get slit up.
D: coming from Maury you bring friends and make friends. Good to have new and already friends.
V: adapted quickly; after a few days didn't need schedule; got used to classes; teachers nice like at Maury. Big change, you have to learn a mental map but once you get it, you're ok.
S: Says it took her more time for her; she needed her schedule and to memorize classes, combo, time at locker —you can't go for every class so you have to plan. Now she has adapted.
D: it takes getting used to—once you get there you get it. He likes being self sufficient.
Q: FAVORITE THING and a THING YOU COULD CHANGE ABOUT ELIOT HINE:
M: Favorite class video production, interviewing Jason Reynolds (author). One thing to change; [thinks] says 80 minutes in class is a long time. If classes fit your mental state time goes fast, tho.
L: says she likes that EH is inclusive. Supports people with challenges in learning. One thing she would change is: The way that if you're a little late (say you need to carry a lot, or go to get locker) and how need to get a pass to be somewhere at lunch or recess because you want to.
MZ: I like diversity. If you're different —and everyone is different— you'll always have a friend or a new class, because they are new every year. It's comforting in a way because if you know if there's something you didn't like, there's also something you're going to like. I would change the food in the cafeteria. It's not very good.
D: likes the opportunity. There's a lot of things he tried he never thought he would; swims on the team, never thought he'd competitively swim, same with debate team (which is is also on); call is a "good skill to have". He'd change the time allowed between classes; its hard to get to class in 2-3 minutes, especially in 6th grade.
V: favorite thing is that she doesn't have to be in lines. "I was sick and tired of that". I like how everyone is super accepting; like Mackenzie said everyone is; they'll go faster or slower if you need it. I love the library/libraruan and breaks. More options for recess and break. Least favorite: you can only go to lockers 4 times a day, but each time need stuff for 2 classes; 7th graders go for 3 times bc lunch is a period later.
S: Favorite thing EH is after school options. sports. A lot of new and different and fun sports compared to Maury; she did archery in fall ("which was fun and I got good at it") is now swimming on the team. Also, like (D) said, if you'd asked her if she'd be competitively swimming, shed have said no, bc she didn't like the idea of competitively swimming but now she's tried it and its really fund. Like V said; if she could make a change, she'd ask for more locker time.
Q: ADVICE FOR 5th Graders GOING TO EH
M: Be as open as you can to new opportunities and new people as you can. It will feel like a big change, but I promise you if you keep an open mentality, it will be easier and you'll get it a whole to quicker, I promise.
L: check in with social workers if you feel overwhelmed; tell teachers you're feeling "any sort of way"; they won't share it unless its really bad (law). And never be late to Mr Burke's class, you will regret it.
MZ: work at your own pace, or go to your own pace. Sydney said it took longer to get used to your schedule; but don't worry. The schedules are all in a book, you can look at it [even if you lose it]. There's always another assignment if you're quick to complete yours, and more time if you need it to finish yours. "Whatever you need to do. There's always another way that you can do it. There's always another route."
D: It's not as hard as you think it is. You'll get used to it; class will sort itself out.
V: be yourself. Don't try to match everyone else pace, do what other people are doing. First year, she tried to rush on her math lessons, didn't do good. Go at your own pace, getting better grades now [Principal's Honor Roll!]
S: Don't stress yourself out about MS, it's not as hard as you think. I thought it was going to be super hard and I wouldn't be able to keep up, but if you take risks and try new things, it is easy to adapt to. And, also, at the beginning of year, memorize locker code and schedule. She forgot hers like, 3 times, and needed a lot of staff to help her. "Sometimes, me and my friends were wandering in halls and would pass class, like, three times."
Q DO YOU FEEL THAT MAURY TRAINED YOU ADEQUATELY TO SUCCEED AT EH?
M: says she did, but […] I got the basic things I needed to know in HS academically and socially. I just built on top of it and able to excel with what I did and didn't know.
L: Maury gave me skills I needed to move on to higher level of learning. Appreciate that I was given building blocks for later.
MZ: Maury did give us more that what needed [to prepare for MS]; teachers made it feel like it was going a big deal (V nods) and its not, its just school. Things move slower at Maury; EH is faster paced.
D: got a good academic basis here [at Maury]; started on right foot in MS. At Maury learned a lot about how to act socially, because there were always people coming throughout year, meeting new people; used those skills to make friends at EH, and that helped.
V: 100% got academic skills to get on [at MS] here. Says MZ is right, teachers made it seem [like MS would be] intense, and she was a bit stressed, ie about behavior in class ("your teachers will kick you out of class"); it didn't happen. [Maury] teachers may have been extreme about that, she said.
S: [Mary] teachers made it [MA] feel more extreme, agrees; but definitely got adequate learning at Maury to succeed at MS. And realizes this year that things they are learning they are getting easily bc of what they learned at Maury —like math and essay-writing techniques; had strategies learned at Maury.
Q: WHO HELPED YOU FIGURE THINGS OUT IN EARLY DAYS AT MS?
M: teachers were very helpful, always in the hallways. They were really just eager, "all standing there in the hallway to help."
L: they were there to help you, but she once got very lost, so couldn't find a teacher; "but when you can find them, they're helpful."
MZ: behavior techs and counsellors are everywhere to help. "They are just all over."
D: teachers, and some of the kids that were at summer bridge, they knew where to go, walked to class together "made friends that way:" Magrino also helped him find class.
V: teachers will help a lot first couple of days. Will emphasize not talking then when you do, will repeat selves. They love to help. Getting lost is common; teachers will help if you just ask.
S: Always teachers in hall, people to help you find your way in first couple of weeks. Got very lost on way to 2nd floor math and ended up in cafeteria and asked people there for help and they escorted her to class.
V —makes a point. Its of people were confused —design and modeling was not about clothes. They were designing a brace to put on people's feet. This is a real concern —people were disappointed. Other students note they did make an orthopedic shoe once, tho. And tested on themselves.
Q: IN ONE WAYS DO YOU FEEL SUPPORTED BY ADMINISTRATION/TEACHERS IN TERMS OF ACADEMIC AND PEER TO PEER CHALLENGES?
M. She feel v supported, easily shown throughout school, she said; every adult is eager to help in whatever way they can. Behavior techs on top of conflict, will take kids out of class, calmly; and talk about it with them. Academically, teachers will talk to kids at lunch, and provide tutoring.
L: staff are on it at first sign of conflict, even over something as simple as a pencil. Will diffuse, talk to you, and make you feel better.
MZ: Feels supported academically —points to sixth grade math teacher and still loves and talks to this person about everything. People are there to support you —they don't even know your name and they're already asking you if you're ok.
D: teachers are good at sensing if you're not being yourself, esp as you get further into the year. Can email teachers and set up time for help. Student behavior —theres not a lot of big conflict between students, but when it happens, you talk thru it with the other person and an adult walks you thru it.
V: feels super supported; academically, emotionally, socially the band teachers leaves door unlocked so kids can do homework in band room either lunch or recess time —"a hard choice: but my score went from a c to an a, so it was helpful… If you call our math teacher, he will talk to you about soc/emotional help; school, or tacos, bc he loves tacos. "He gets tacos delivered," L adds. V shares she has ADHD, says teachers are flexible with support plan.
S: always somebody there to help you; posters and signs to direct you to where to get help. Don't be afraid to tell your teachers what's going on cause they can def help you with anything .
Announcements
Maury at the Market
Contact: Karli Maloney (karlidyan@gmail.com) & Elizabeth Kaehler (kaehler.elizabeth@gmail.com)
M@M is our biggest party of the year! It's also a chance to give back to our teachers, administrators, and staff for all they do and raise funds to continue our tradition of being an outstanding and fully resourced school. Mark your calendars and join us for A Night of Pure Imagination!
WHEN: Saturday, March 25, 2023, at 7 pm

WHERE: Eastern Market North Hall

TICKETS: Purchase tickets for $75 before 2/28 and $100 after.

VOLUNTEER:

Email: karlidyan@gmail.com. V

olunteers can purchase discounted tickets

DONATIONS: Purchase or create an item(s) to donate to our silent or live auction. Or donate funds directly to Maury students through Friends and Family of Maury Students.

VISIT THE M@M WEBSITE TO BUY TICKETS & DONATE:
https://mauryele.ejoinme.org/MyEvents/MauryattheMarket2023.aspx
Black History Month (February)
Contact: Ebony Burton (ebony.y.burton@gmail.com) and Tanya Myers (tanyad717@gmail.com)
Saturday, February 4th Maury Black Family Social – Matchbox Barracks Row (time TBD)

Any Maury family with at least one Black identifying member is welcome to come.

February 6th – February 10th – Black History Month Spirit Week


Monday (2/6): Honor our Excellence- Wear your most presidential clothing like our first president, Barack Obama or any Black Excellence outfit.

Tuesday (2/7): Honor the Culture & Heritage- Dress in vibrant colors/ patterns or Pan African Flag colors- red, green, and black clothing.

Wednesday (2/8): Honor our HBCU's- show your pride or support by wearing Historically Black College and University gear or Fraternity & Sorority colors.

Thursday (2/9): Honor our Literature- show black literacy pride by bringing in your favorite book by a black author or a book that features a black character.

Friday (2/10): Honor our Joy- Dress as your favorite African-American Icon.


Tuesday, February 28th – Maury Black History Month Program (6pm – 7:30pm)


Catered dinner and evening program open to all Maury Families

Will require RSVP (ticket "purchase" – Free) with a cap at 150 to 175 families due to catering.

Link to "purchase" ticket will be released at the beginning of February


Will take place in the Maury Multipurpose room
Social Studies – Comment by Jan 30th
On December 16th, OSSE released the revised draft of the new social studies standards for DC schools. OSSE is currently seeking input from the public on these standards. This is an opportunity for our families, staff & students to engage in the standards revision process. The new statewide standards are slated to be implemented by school year 2023–24 in District public schools.
To comment, visit https://opportunityconsult.qualtrics.com/jfe/form/SV_ewIdKVxd8l2CZ9Q to view the proposed social studies standards and give feedback by January 30th.
2023/2024 PTA Budget Important Dates
February 2023: PTA Budget Survey circulated to solicit input on the 2023-2024 PTA budget.
March 2023: PTA Budget Listening Session (virtual, date TBD)
April 2023: First draft of 2023-2024 budget circulated w/ PTA Exec Team and School Administration
May 2023: Proposed 2023-2024 budget presented at the May PTA Meeting (6pm May 18th)
June 2023: Official vote to approve the 2023-2024 PTA budget at the June PTA Meeting (6pm June 15th)
Key Upcoming Dates:
Friday, January 20th: Maury Babysitting Night (5th Grade Fundraiser) – SOLD OUT
Wednesday, January 25th: No school for students.
February: Black History Month activities (see special section above)
Tuesday, February 7th: Tuesday's at Tunnicliffs, 5:30pm-9pm, 15% to Maury
Saturday, February 11th: Maury Used Book Fair (5th Grade Fundraiser)
Thursday, February 16th: PTA Meeting
February 20th-24th: Winter Break
Congratulations January DIO Award Winners!!!
Amber Kroll, Andrea Lippin, Erin Moore, Karli Maloney, Kathy Loden, Lauren Bomba, Lora Nunn, Marion Smith, Marty Smith, Oliver Lawrence, and Veena Srinivasa